Welcome to META Physiotherapy & Performance
We endeavour to deliver individualised, authentic and focused treatments through hands-on and evidence based strategies to both athletes and the public. Helping you to get back to your goals in daily life and giving you the treatment you deserve.
Optimal, focussed and individualised service to understand your problem and get you back on track with your goals.
More Information
Tailored, scientific and clinical programming to work with you to reach your true potential.
More Information
Bespoke, targeted and therapeutic sessions to enhance your bodies natural recovery.
More Information
TESTIMONIALS
Excellent
Based on 36 reviews
I had both my knees replaced and was reasonably pleased with the outcome but felt they could be better. I went to see Matt at META and he worked out a programme for me that was simple but effective, the improvement in a short time was amazing, I'm now walking 5 miles every day and the mobility is so much better. Thank you Matt.
Matt is a great physio - he got me from not being able to run 1km to completing a marathon in no time , he quickly diagnosed my injury and set out a physiotherapy plan to repair my knee 10 out of 10 thanks again Matt!
What a fabulous service I have received from Matt at Meta. He got me into see him really quickly and has helped me no end with my issues. He takes the time to fully explain everything and I felt 100% comfortable not only with him but the confidence he gave me to move forward. Thank you Matt
An excellent physiotherapists, Matt diagnosed my injury and provided recommended care on my first visit, unable to receive treatment at that point. Have since had a follow up treatment and given thorough advice with a great aftercare plan which is aiding my recovery.
I went to Matt after a glute and lower back issue which was causing me discomfort. Matt is very knowledgeable, I was soon back to normal and training again, highly recommend.
Can't fault service provided with my chronic ankle injury. But with great diagnosis, advice and rehabilitation I have been able to drastically improve my ankle with Matts help and advice.
I booked an initial assessment with Matt for a knee injury I got playing rugby. Matt was quickly able to diagnose my injury as a torn meniscus (which was later confirmed with an MRI). He then set about devising a rehab programme with the aim of getting me back playing rugby. Matt made sure the rehab was tailored to my needs and fit my lifestyle and training routine. Within weeks I was seeing big improvements and with every appointment Matt tweaked the rehab in order to maximise the results. His knowledge around sports and sports injuries is vast - he always had the answers to my questions and made sure he explained everything in full. 3 months on and my knee is almost 100%. I can't recommend Matt highly enough!!
Very professional service from Matt. Has helped me tremendously to improve my very painful shoulder. Would recommend.
Matt has been superb throughout. From taking the pain out of my lower back after years of suffering to providing key exercises/stretch selection to enhance all round gym performance. Would recommend META to all.
I recommend Matt very highly. I went to see him in September 2 months after injuring my knee. He managed to diagnose the problem after a session and gave me guidance on exercises to get the knee back to normal without going down the surgery route. Within 2 months I got back to running and playing football. This is after being incorrectly diagnosed by a different physiotherapist.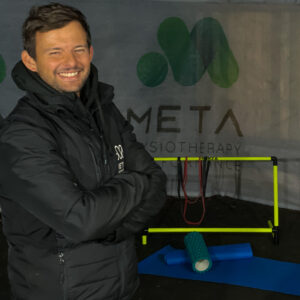 Matthew Parker
Clinic Owner - Lead Physiotherapist and Strength & Conditioning Coach
BSc MRes MSc MCSP ASCC
He is someone who has a vast experience of elite sports; having worked in elite sport environments for the past 11 years at both academy and 1st team levels, whilst also having experience of working in the NHS and the public health sector. Throughout Matt has endeavoured to maintain a depth of knowledge through academia and training courses as demonstrated below.
Qualifications:
BSc Sports Science
Masters of Research
MSc Physiotherapy
UKSCA Accredited Strength and Conditioning Coach
Member of Chartered Society of Physiotherapy
Acupuncture Association of Chartered Physiotherapists
Diploma Sports Massage
ISAK Level 1 Anthropometrist
Lubas Trauma Management
Lucy Taylor
Personal Trainer / Strength & Conditioning Coach
BSc MSc
Lucy is an enthusiastic and driven training coach, who prides herself on her delivery of quality training. Lucy has experience in developing the athletic potential of a numbers of athletes in different sports, including; football, netball, cricket, basketball and dance to name a few. Part of her development as a strength and conditioning coach and personal trainer came from a studentship in strength and conditioning with the TASS athletes at Wolverhampton University. Lucy also has a background in elite sport having played netball to a professional academy standard before pursuing a career in Athletic Development, Personal Training and Strength and Conditioning.
Qualifications:
BSc Sports Science
Masters of Science
Personal training level 2
First Aid
Personal training level 3

Get in contact with the team today!
A complete range of services to embrace rehabilitation, wellbeing, and performance training for both lifestyle and sport. Built to suit your goals.